In November 2020, Raluca Ceacar and her husband Radu moved to Skellefteå together with daughter Timeea, today 6. Since then, the family has expanded with another daughter Theona, who turns two in February. Raluca was born and raised in Romania's capital, Bucharest. Her husband came home one day and suggested a move to Skellefteå and a job at Northvolt Ett.
– I said "Yes!" without thinking about it too much and without doing any research first, Raluca laughs when we meet at Northvolt where she is also employed today.
– Then I thought I should check out Skellefteå. My first contact was with Expats & Friends on Facebook.
Expats & Friends In Skellefteå is a non-profit association with 2,200 members in its Facebook group. The association works to welcome, integrate and increase cohesion in a multicultural environment with the goal of making settling down in Skellefteå a "pleasant experience".
– I made some new friends via Expats & Friends when we were still in Romania. It was nice to make contacts early.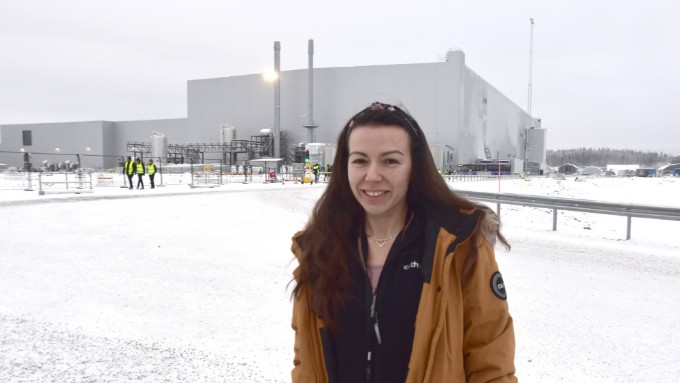 Raluca was pregnant with daughter Theona, soon to be 2, when she moved to Skellefteå. Today, Raluca works as a onboarding coordinator for Northvolt.
The family moved to northern Sweden and now live in Skelleftehamn. Today, Raluca works as an onboarding coordinator for Northvolt.
– When we moved, I was pregnant and thought I would spend time with the children and get used to the new surroundings.
However, things developed unexpectedly quickly.
– When Theona was one, she started preschool and spent three hours a day there. I felt it was time for me to do something.
Big sister Timeea speaks Swedish now and has developed the language quickly after initial reluctance.
– She went to preschool in Romania and it is very similar to regular school. One day I asked about the preschool here and got the answer: "It's not a school. It's a playground. We play all the time," laughs Raluca.
– From the beginning she didn't want to speak Swedish, but English. After a year, she started speaking fluent English. In preschool they only spoke Swedish and when the preschool teacher asked her a question in Swedish, Timeaa answered in English. Now she goes to an English-language preschool and since she doesn't feel the pressure, she has started speaking Swedish. It's about courage.
When they arrived in Skellefteå, Radu started his new job and Raluca went to study at SFI.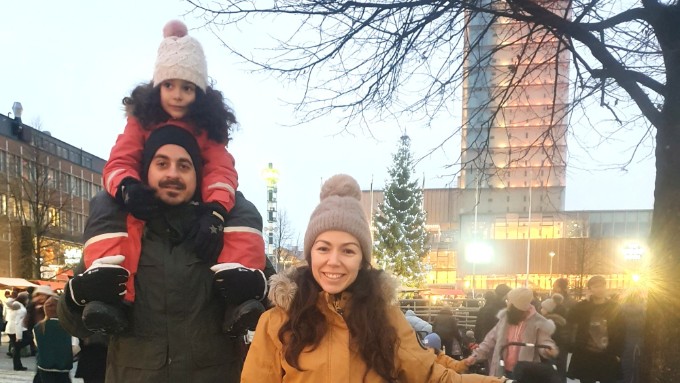 Raluca Ceacar, here with her husband Radu and older daughter Timeea, thrives in Skellefteå. "Over time, I've discovered many things here," she says.
– I met many others who had husbands who worked at Northvolt. I felt that we could form a common community. First we started with What's App. Then we chose Facebook to be able to share pictures, among other things, but also to be more active and invite new members more easily.
Today, the group consists of around 80 participants.
– We get requests every day, but we keep it only for Northvolt spouses. We share information about things to do. It can be events, flea markets or meetups during the weekend, continues Raluca, emphasizing the importance of a community in a new place.
– When we moved here, I already had acquaintances in Skellefteå who have become close friends over time. It is important to me.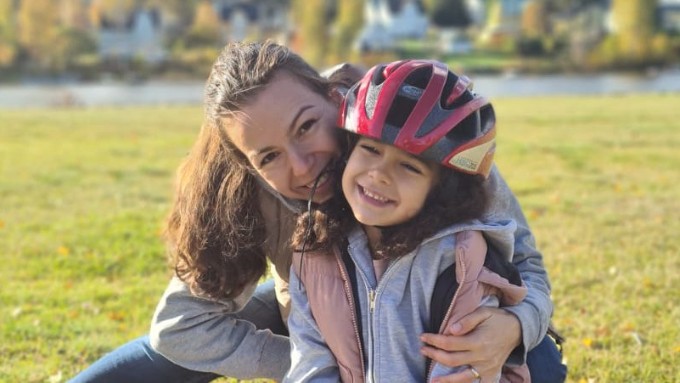 Timeea, after a tough start in a Swedish-speaking preschool, took two years to speak Swedish. "She's now in a English-language preschool with less pressure and speaks Swedish. It's about courage," says Raluca.
The Ceacar family lives in a house in Skelleftehamn.
– At the beginning, it was a big difference to move from a capital city with a new house to a smaller community where we have an older house. But now we feel at home.
– Over time I started to discover things in Skellefteå. When we visited Eddahallen swimming pool for the first time, I was pleasantly surprised. The same when we visited Leo's Lekland and Trampolinhuset. There were things to do that we didn't know about when we first arrived
– I get tips from the others in our community on Facebook. They ask if we want to go and visit different places with them.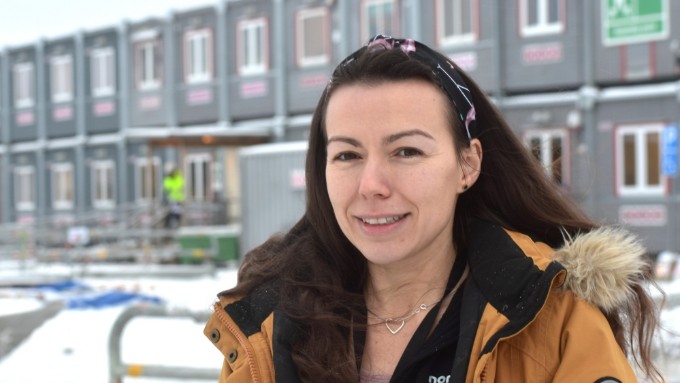 "We had heard that those who live in the north were cold, but that's not true. Everyone has been surprisingly welcoming and everyone can also speak English - even older people," says Raluca.
There is obviously room for improvement, Raluca notes.
– It would be great if the restaurants could change their opening hours. A couple of weeks ago we were in Skellefteå walking around and the restaurants we visited were closed. We were too early to eat even though we were out in the middle of the day.
Have you seen Skellefteå's surroundings?
– What has impressed me about Skellefteå is that it's only 20 minutes to the sea, and that you are also close to skiing.
Raluca says that a lot is happening in Skellefteå, and that, among other things, Sara kulturhus has opened since they moved here.
– We had heard that those who live in the north were cold and unfriendly, but that is not true. Everyone has been surprisingly welcoming and everyone can also speak English - even older people.
– My greetings to the people of Skellefteå: Thank you for welcoming us and keep up the good work!
Raluca Ceacar
Age: 34.
Lives: House in Skelleftehamn.
Family: Husband Radu and daughters Timeea and Theona.
Work: Raluca works as an onboarding coordinator at Northvolt.
---