The family consists of Nicola, husband Johathan, children Isabelle and Lucy and dog Kya. They moved from West Yorkshire in England to Vebomark in December 2020.
And now Nicola will write columns in English. The texts will of course be published under the Norran english initiative but also in the paper newspaper. There, she wants to share, among other things, the life change the family has made and the beauty she has found in the surroundings.
– We decided that we wanted to move to northern Sweden. We looked on the internet, talked via Facebook and then got in touch with a woman at the English school in Skellefteå. We were told how lovely it was in Skellefteå, so we started looking at the area.
– We wanted to live in the country and with nature close by, preferably with a barn on the farm and forest and land nearby. We received a link about a house in Vebomark that looked wonderful.
Due to the pandemic, the family could not go to Sweden and look at the house, but they had contact with the agent via email.
– Then she, who owned the house, saw that we were looking for a property and contacted us. It was just meant to be Vebomark.
The idea was to move Easter 2020, but it ended up being in December.
– It was the first time we came to Sweden and saw the house in real life. It was exciting, and a bit scary.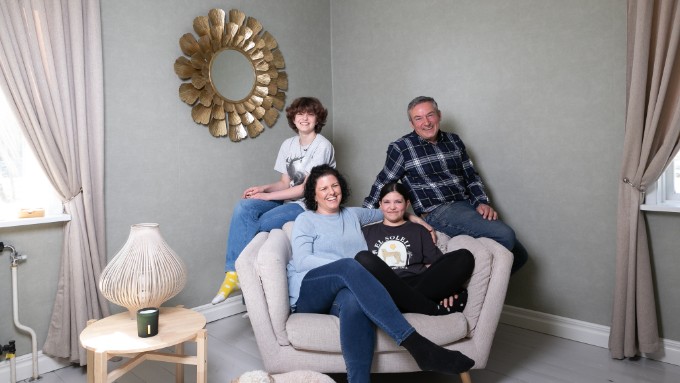 The Foleher family, Nicola, Jonathan, Isabelle and Lucy and the dog Kya.
And the family is completely satisfied.
– My husband really appreciates the barn, his mancave, says Nicola and laughs.
Jonathan likes nature and is outside a lot, camping and hiking. The children can cycle freely on the roads, go for dog walks and in the forest.
– We were a little worried that it would be a little far out in the countryside for the children, but me, Jonathan and the children are enjoying themselves very well. In England it became more and more houses, more and more people and with that came more crime and antisocial behaving, here there is freedom.
She has started a company – Nordnic Illustration and art – in Sweden. Here the focus is illustrator and artist.
– I have always been creative and the lifestyle change opened up the possibility of selling art. Now I want to share my love for Sweden and especially Skellefteå with the world through my artwork and blogs.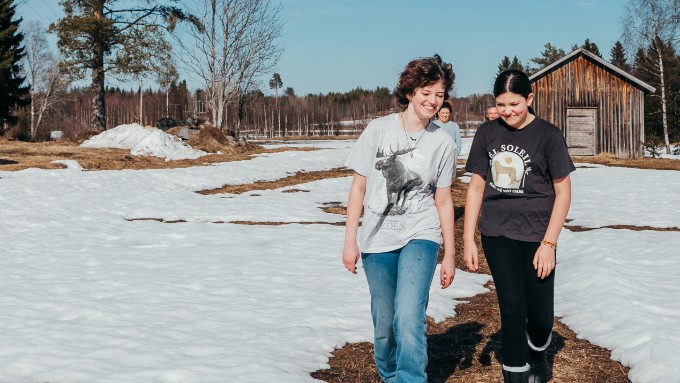 The children Isabelle and Lucy Foleher enjoy themselves very well in Vebomark.
In England, she also ran companies, two to be precise.
– I mainly worked on treatments, massages and holistic therapy activities. But all therapists had to stop their activities during the pandemic. I had the treatment room at home. In the other company, during the pandemic, there were more artworks for the home and some private assignments.
She also has some dreams for the future.
– I would love to write and illustrate a book, possibly about the different stages of nature during a year with animals and vegetation. It might then become a cozy book for children.
She has had a workplace in TGN for a few months now.
– I worked from home at first, but it became a little difficult with travel times and different schedules for the children at the English school. At first I tried to sit and work in the library, but then I was told that there was a vacancy in TGN.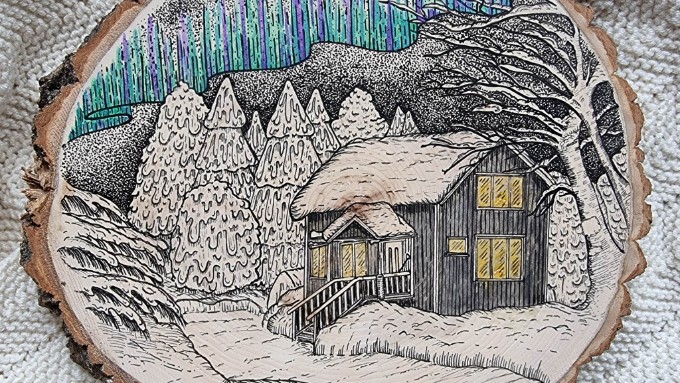 One of Nicola's artworks on wood.
Jonathan still works for the same telecoms company he was employed by in England.
– He was going to leave his job, but then the company said that working from home had gone so well during the pandemic that it would also work in Sweden.
She also tells a piece of news.
– We hope to buy another housesoon. There we would like to start up holiday rentals via Airbnb. We want people to come here, feel the peace and enjoy the scenery all year round.
Facts
Name: Nicola Foleher, 43 years old.
Family: Husband Jonathan, 50, and children Isabelle, 13, and Lucy, 11, and dog Kya.
Lives: Vebomark since 2020.
Profession: Artist, illustrator and blogger.
Current: New English columnist.
---