A selection of things to do this winter in and around Skellefteå: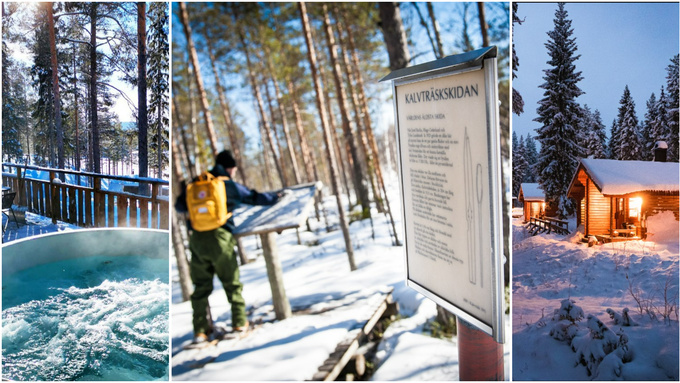 Relax with a sauna, outdoor hot tub, or an evening by the fireplace in a cabin in Kalvträsk
About an hour from Skellefteå lies the small village of Kalvträsk. With its beautiful surroundings and investments in tourism, it's a great destination for those who want to get away - but not too far. Here you can rent accommodation, including the wilderness camp White Mountain Lodge, which offers cabins right by the mill pond. Relax in the sauna and outdoor hot tub, or spend an evening by the cabin fireplace. Or explore the surrounding nature, try ice fishing, or visit the Kalvträsk museum.
Icelandic horseback riding in nature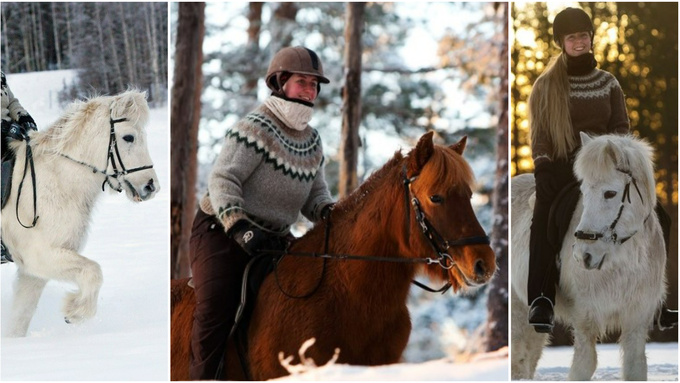 Experience the forests of Norsjö with Icelandic horses at Horses of Taiga in Svansele.
Experience the forests of Norsjö from astride the back of an Icelandic horse. Horses of Taiga in Svansele offers different types of rides for those who want to learn more about Icelandic horses and the northern Swedish taiga, also known as the boreal forest. The route is adapted to the experience level of the group, so both beginners and experienced riders are welcome. Moonlight rides, snow rides, or rides in the winter forest - there are several options and time frames.
Skating on an ice rink or natural ice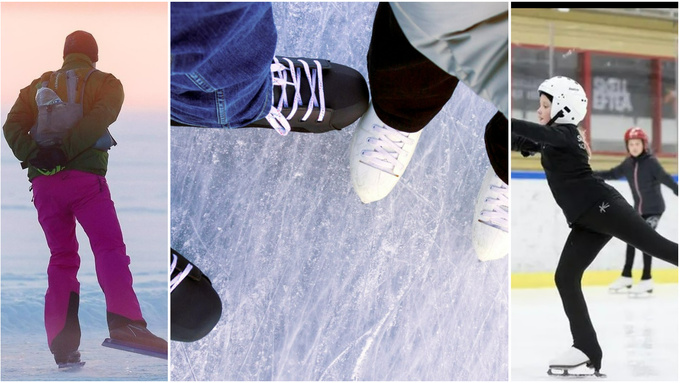 Go ice skating this winter! Skellefteå offers a wide range of maintained ice rinks.
Skating is a fun and popular winter activity. It can be a bit tricky for beginners, but you'll learn quickly. Skellefteå has a large number of well-maintained ice rinks. You can go free skating or play ice hockey. If you want a more natural experience, you can go long-distance skating on natural ice. Equipment can be rented at Fritidsbanken.
Winter swimming in Örviken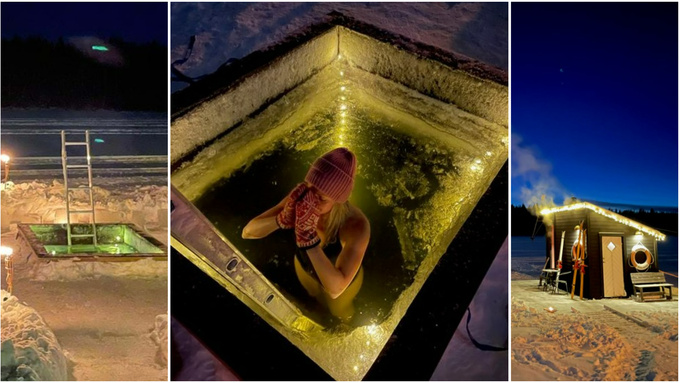 You can experience the thrilling mix of horror and delight (though mostly horror!) by winter bathing in Örviken.
The mixed feelings of horror and delight of winter bathing are something to be experienced. Not only is it a fun activity, but many claim it's also good for your health. In Örviken, just outside Skellefteå, the annual ice hole is now open for swimming. There's also a warm sauna, a fireplace and brewed coffee. In the evening, the underwater lights come on.
Cross-country skiing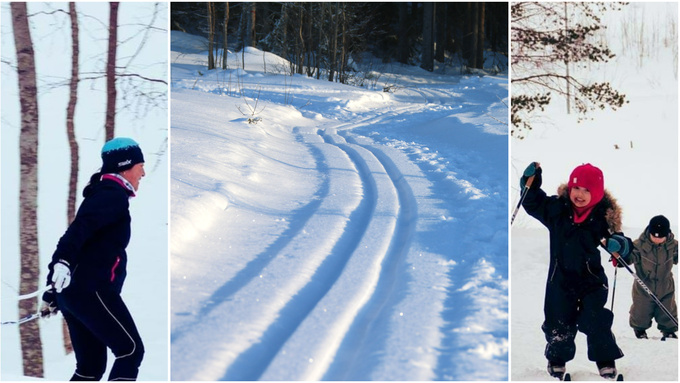 Have fun and stay active at the same time. Skellefteå and its surroundings offer several cross-country skiing trails of varying levels.
Skellefteå and its surroundings offer several cross-country skiing trails of varying levels. The most popular one is the Vitberget light trail stretching three kilometers. Here, you can do both classical and skate skiing, and there's a warming hut nearby. If you don't have your own skis, you can choose to rent a pair. And if you've never skied before – don't worry! Everyone has to start somewhere, and once you learn you'll have wonderful fun while getting also some exercise. It's a win/win!
Dog sledding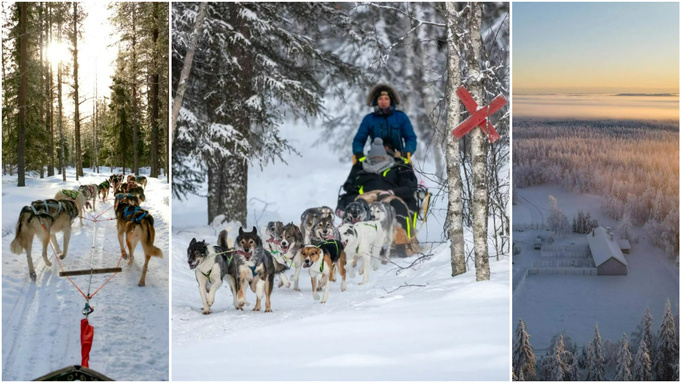 Let the dogs at Paws of Björnlundta take you on a sled dog adventure in Malå.
In Malå you have the opportunity to go dog sledding with Paws of Björnlund. They have 19 Alaskan Huskies and one Siberian Husky who will help you experience the beautiful nature that Lapland has to offer. There are several options depending on your preferences. Let the dogs take you on a husky adventure!
Experience the slopes of Vitbergsbacken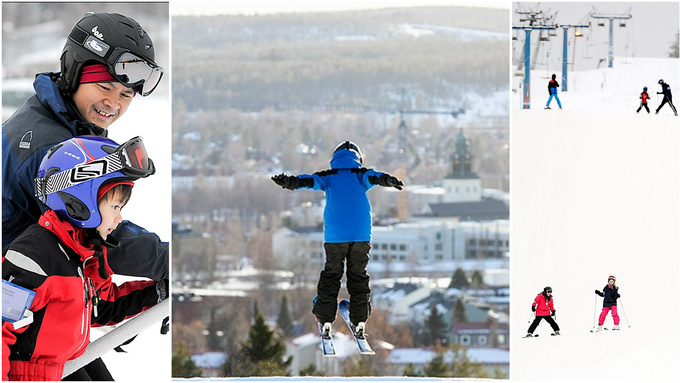 Experience the slopes at Vitbergsbacken, just two kilometers from central Skellefteå.
Next to Skellefteå Camping you'll find Vitbergsbacken. With two lifts, two slopes, and a children's slope with a drag lift, it's a great skiing venue for the whole family. There's also a fun park with various jumps and rides. You'll also find shelters with barbecue grills on the hill if you want to take a break. Ski and snowboard equipment can be rented at Fritidsbanken.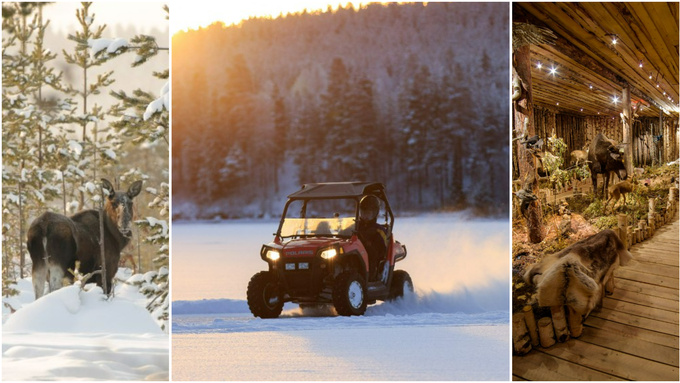 Visit Svansele Wilderness Center and experience activities such as moose safaris AND a huge wilderness exhibition.
If you're looking for a wilderness adventure, Svansele Wilderness Center is the place to be. Choose from a variety of activities such as snowmobile tours, culinary experiences or moose safaris. Customize your experience to your liking. They also have Sweden's largest indoor wilderness exhibition.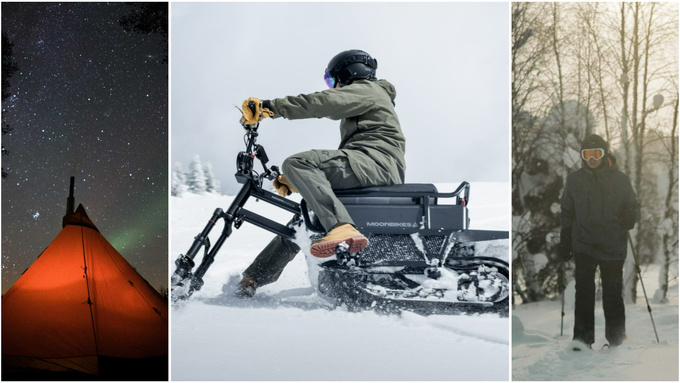 At Lapland Cottage and Tours in Rentjärn, you can go snowmobiling, take a tour under the Northern Lights, or go snowshoeing.
Take a tour under the Northern Lights or go snowshoeing. At Lapland stugas och tours in Rentjärn, you'll find several different experiences to make the most of winter in the north. It's also possible to stay in one of the cottages. Your stay will be tailored to your preferences and experience level.
---