As Norran has previously reported, there has been concern among some buyers who have signed up for new, to-be-constructed apartments in Skellefteå. All three construction companies currently building apartment blocks have had calls from worried customers, who were worried that work hadn't yet started.
The good news is that both Riksbyggen and HSB companies have begun construction on their planned apartments, while UGM expect to start building in 2023.
At Getberget, Riksbyggen has now officially started with its two high-rise buildings for the Utsikten condominium association.
During the summer and autumn, the municipality laid cables up to the site, and has prepared for a new street. The week after New Year's, the felling of the forest was completed, and shortly the stumps will be removed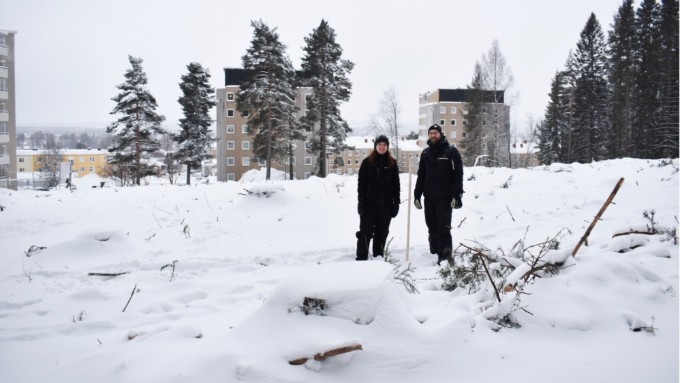 Sandra Söderström and Jonas Broady of Riksbyggen.
At the beginning of February, the general contractor NCC will prepare the ground and then the digging will begin.
The parking garage is to be two floors underground, and therefore a deep pit is needed.
– In part, we will have to blast, because it is rocky ground says Sandra Söderström.
The two buildings will together accommodate 75 apartments and 22 of them have already been sold.
– Most in demand so far are three beds facing west.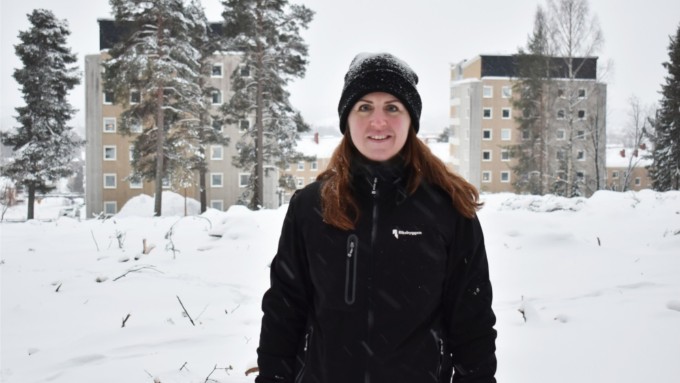 Sandra Söderström, a project leader at Riksbyggen is lookogn forward to the construction process.
When it comes to finances, project manager Jonas Broady says that construction prices have risen and that, as a result, the Utsikten association will get an interest rate of 4.8 percent.
– It is quite high, and we do not believe that the interest rate should rise more than that. As for the construction costs, NCC took the job on a turnkey basis so it was in their interest to get the prices right. Should there be any discussion on prices during the construction process, it will be between us and NCC, so it will not affect the customers.
Because the construction period is long, a lot can happen in the housing market before it is time to move in. The apartments will not be ready until 2025.
– If by chance there is an apartment that is not sold, Riksbyggen guarantees that we will buy it up. In this way, the condominium association is not affected, says Jonas.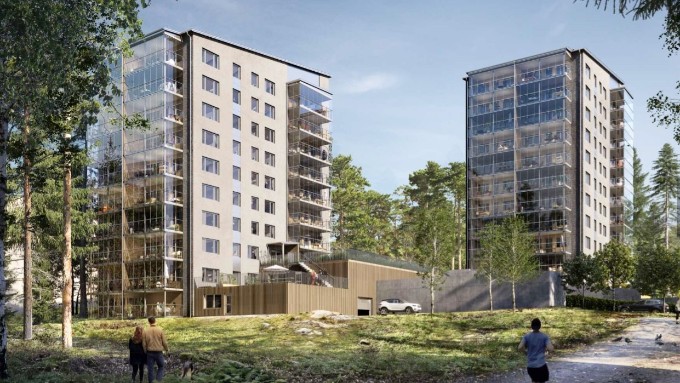 Artist's impression of the apartment blocks on Getberget.
HSB is also preparing to start building. They are waiting for a building permit for the large complex next to Sara kulturhus, behind the "old post office". There, 95 apartments are being built for the Polaris housing association.
We are planning to start sales in the spring of 2023, and start building when we have buyers for about 30 percent of the apartments, says Mattias Lundström, CEO of HSB Norr.
– Of course there is concern in the market, but many who buy our apartments are older people who are selling their villas and they are not as sensitive to interest rate increases.
– Even though the housing market is still weak around the country, we believe very much in Skellefteå, adds Mattias Lundström.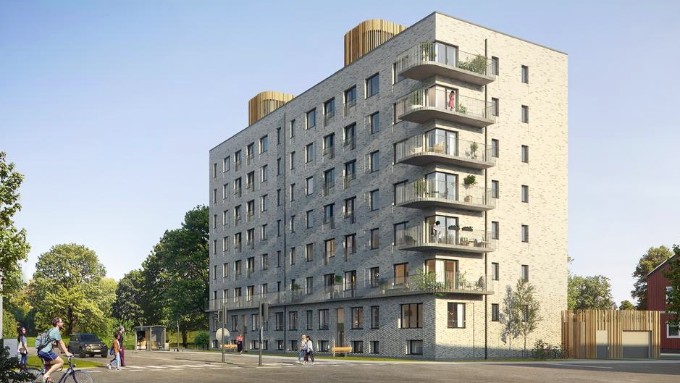 An artist's impression of UGM Fastigheter's plans for an apartment block on Skråmträskvägen.
A third company that has a completed prospectus is UGM Fastigheter AB. They have a building permit for the building on the corner of Skråmträskvägen/Brogatan in Sörböle. Karlavagnen housing association will get 49 apartments.
– Sales have been slow due to the global situation, but it's nothing specific to this particular project; it's like that throughout the country. We are optimists and hope to start building in the spring. It will be a very nice block and the location is good, says Markus Furby, co-owner of UGM Fastigheter.
He says that around 10 families have currently signed up to buy.
Story context
Times are tough for homebuilders now. On the one hand, construction prices are high, and on the other hand, interest rates have gone up. This means that buyers of apartments can be assumed to be cautious.
In a calculation for 2023, the housing authority has calculated that only 14,000 condominiums will be started in 2023. This can be compared with 26,000 in 2022 and 33,400 the year before.
---