The absence of a café at Nordanå for almost three years has felt like a whole at the heart of Skellefteå.
The last tenant of the café, Anders Holmbom, who took over the premises at the beginning of 2018, made the decision to close the operation in December 2020, due to declining revenues during the covid-19 pandemic.
Since then the municipality have been trying to find the right person to reopen the café, a substantial 80-100 cover space, but with little luck.
Step up Janis Gjoliku, who has previously run the restaurant and café at the Vitberget swimming pool, and who has worked in the restaurant business for 20 years.

Gjoliku, an Albanian who has lived in Skellefteå for 15 years, has long wanted to run the café at Nordanå.
– It is such a lovely space, and a special part of Skellefteå. I first asked about it a year ago, and now I am so glad to be here, he says.

Janis feels the café is just the right size for him.

– It's not too big and not too small. It feels cozy and intimate, but large enough for a group of friends to enjoy fika.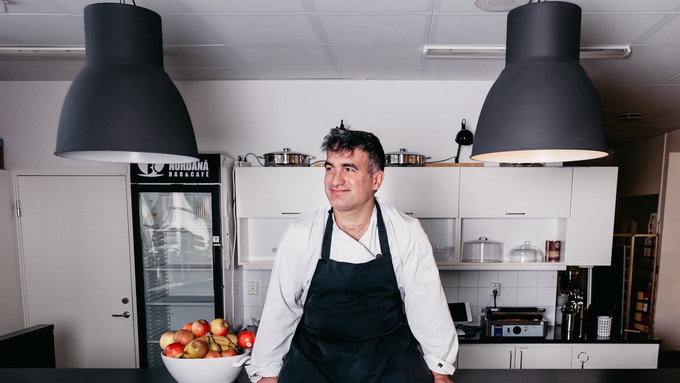 Janis has plans for some Mediterranean-influenced food at Nordanå's cafe.
As for the food on offer, Janis says he's started off with simple fare such as soups, sandwiches and salads (and of course, fika!).

– But I do have plans to offer some Mediterranean-influenced dishes, he says.
Mikke Ejrevi, the outgoing head of department at the culture and library department, who's long been searching for someone to run the café is delighted with Janis taking over.

– It's great, we've really been looking forward to Janis taking over. It was the last thing I was involved in doing as head of department. We've been trying to find different solutions for such a long time, but we're confident in Janis. He's ambitious and is brave enough to try something new, says Ejrevi.
Nordanå Kaffe, as Janis's new venture is called, is open from Tuesday until Saturday, 10.00 to 19.00 on Tuesday, and 10.00 to 16.00 on the other days. At first, he's running the café on a six-month contract.
---