– It's evident that having important jobs brings us satisfaction, says Tom.
– Here, I feel very appreciated and highly valued, adds Natalia.
Natalia hails from Belo Horizonte, a city with approximately five million inhabitants, including suburbs, located in the region of Minas Gerais.
– Mines play a significant role in life there. There isn't a mine directly in the city, but there are many in the surrounding areas. Most of them mine iron ore, she explains.
Natalia Meireles received her education in Brazil, France, Belgium, and at Luleå University of Technology.
– I was awarded an EU scholarship to study in Europe and decided to take the opportunity. At that time, the mining industry in Brazil was in a downturn, with many unemployed engineers and fierce competition for available jobs.
Belo Horizonte is a large city in the district of Mina Gerais in Brazil.
In 2019, Natalia moved to Luleå. In March 2020, she connected online with a resident of Kalix who planned to pursue a career in nursing.
–The pandemic had just begun. We met and took a walk on the ice rink in Luleå, from Södra Hamn to Norra Hamn. Afterward, I dropped Natalia off at Porsön and asked if we could meet again (laughs). We actually clicked right away, says Tom.
The budding romance encouraged Natalia to remain in Norrbotten.
– I had considered staying and working here, and had applied for a few jobs the way we do in Brazil, i.e., online and via email. However, Tom thought that wasn't sufficient. He said, 'Call and talk to them.'
Then, Tom came across an advertisement from Kaunis Iron, and Natalia made the call.
– It was a Wednesday. By Friday, I was invited for an interview.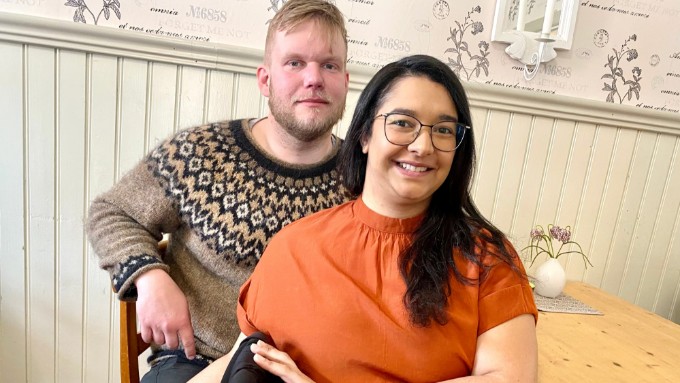 The interview with Tom and Natalia takes place at the historic café Lyktan in central Kalix.
Following another interview and an online test, Natalia secured the job in June 2020.
– Sometimes it's good to be a bit 'old-fashioned.' I grew up around older people and have probably been influenced by them, says Tom.
– I'm really enjoying both living in Pajala and working for the company. I get to study Swedish once a week during work hours. It was difficult at first, but I'm learning more and more, says Natalia.
On the whole, things have gone smoothly; however, there were a few hiccups with her work permit, which required her to return to Brazil for a six-month period as she awaited the resolution of these issues.
– It was a bit of a tough time, but the upside was that I got to see Brazil. I visited for four weeks. It's not as well-organized as Sweden, but Brazil is an incredible country with friendly people, says Tom.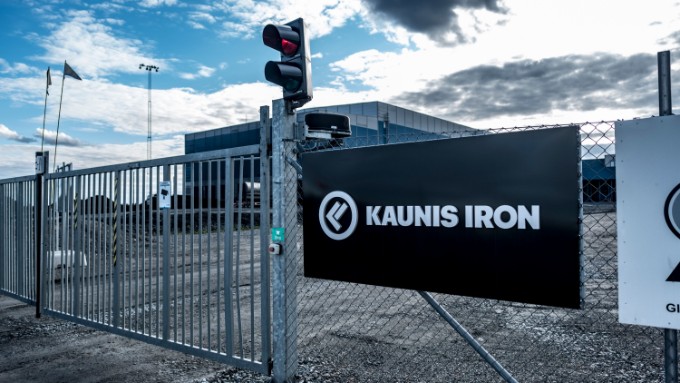 Natalia Meireles works as a mining engineer at Kaunis Iron.
Tom himself had been working as a truck driver for nearly a decade and concurrently managed his own business as a jack of all trades when he decided it was time for a change.
– During a 2018 exercise with the Home Guard, I met an instructor who happened to be a nurse. I found it truly inspiring and chose to pursue a career in nursing. The scarcity of professionals in the field wasn't the primary motivation for my decision; rather, it was my enthusiasm for working closely with people.
After a stint in adult education supplementing his qualifications, Tom was accepted into the nursing program at LTU in August 2020. The three-year program was significantly impacted by the pandemic, and Tom studied remotely from both Pajala and Storträsk, where he owns a house.
– It has been challenging at times. Out of the 136 students who began the program, only about 50 of us completed it."
Tom highly recommends taking the leap and pursuing further education later in life.
– For me, it was an incredibly rewarding experience.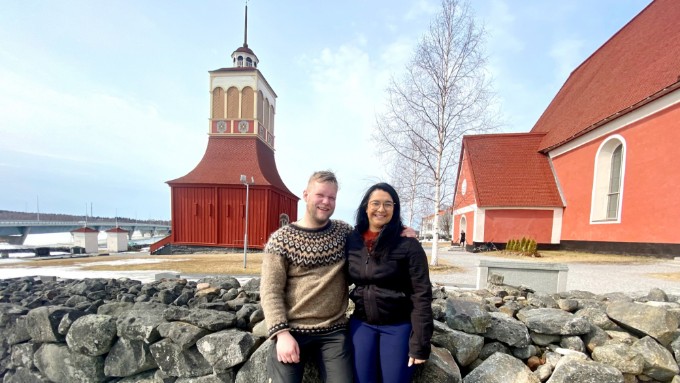 Tom Johansson and Natalia Meireles are optimistic about their future together. They celebrated their wedding at the Kalix church just last weekend.
In June, Tom will graduate as a qualified nurse and will move into the apartment Natalia presently rents in central Pajala.
– I'll be joining the ambulance service in Pajala. There's an opportunity to advance my education as an ambulance nurse while working, and I might consider pursuing that.
The couple has already grown their family with a Labrador puppy named Kajsa. They aim to find a larger living space in Pajala, be it an apartment or perhaps a house.
– Available options are scarce, which makes it quite challenging. We decided to wait until after the wedding, explains Natalia.
Tom popped the question in October.
– We had discussed getting married, and to ensure my family could attend, it had to be in the spring. Yet, it was still a surprise when he brought out the ring. It was a memorable day, Natalia reminisces.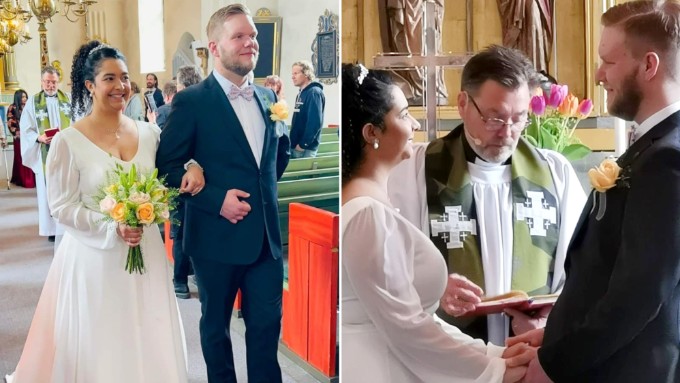 A special moment. The wedding in Kalix church between Natalia Meireles and Tom Johansson was held last weekend.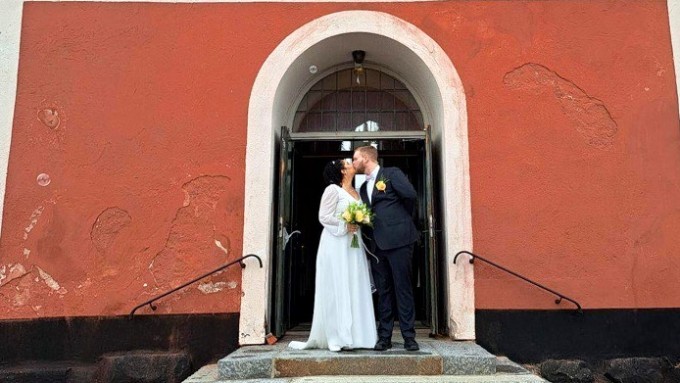 The wedding kiss immortalized. Natalia Meireles and Tom Johansson are husband and wife.
The wedding was held at Kalix Church last Saturday, attended by around 80 guests, including Natalia's family and friends. The reception took place at Kalix folkhögskola, and on Sunday, an "after-party" showcased a traditional Walpurgis Night celebration in Storträsk.
– It was truly special to have the wedding in a church, exceeding my expectations. The day was fantastic, and the festivities continued until three in the morning, Tom says.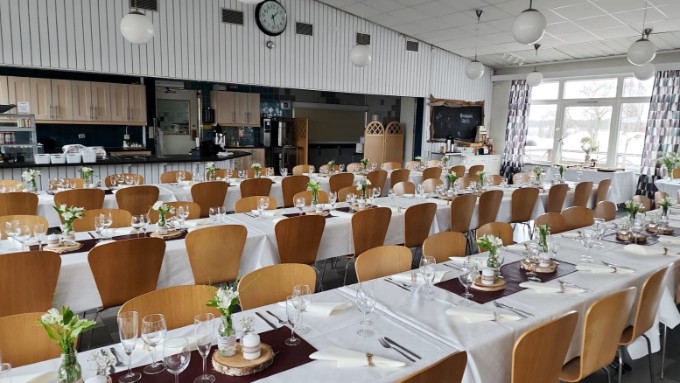 The wedding reception took place at Kalix folkhögskola.
For Natalia, adapting to her new life involves significant adjustments in terms of both climate and culture.
– Thankfully, I took it step by step, as I initially lived in France and Belgium, she says with a laugh.
– However, I genuinely enjoy life here, experiencing four distinct seasons. The darkness is the most challenging aspect, but I have a plan: every December, I'll take a sunny vacation in Brazil.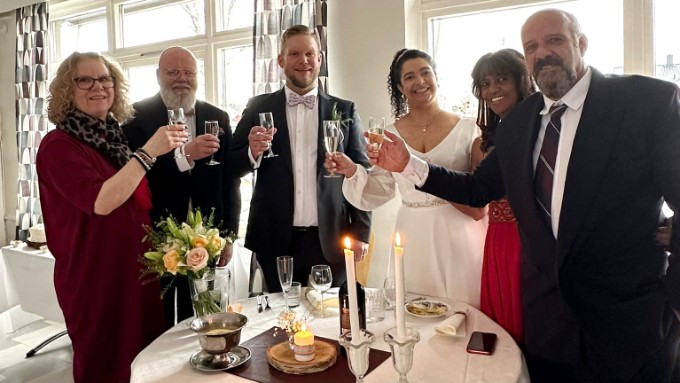 Tom Johansson and Natalia Meireles surrounded by Tom's mother Catrine Johansson and partner Michael Engström, as well as Natalia's mother Rita Meireles and father William Meireles.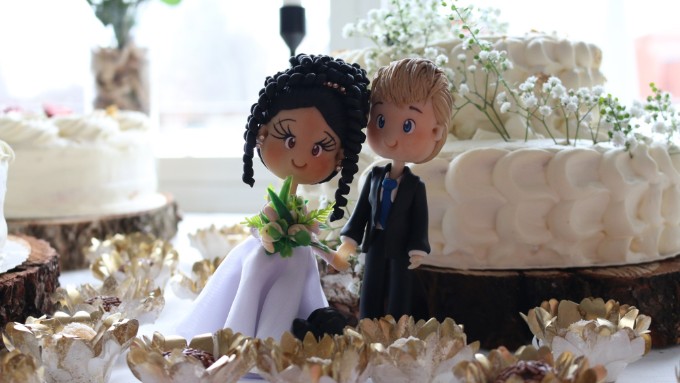 One of the wedding cakes had both a Brazilian and a Swedish theme.
– Even the people and social life are different, says Natalia, reflecting on the cultural differences between Brazil and Sweden.
– In Brazil, people don't visit their friends' homes very often. They meet up in town, at a pub, or restaurant instead. I found it difficult when Tom said, 'Come on, let's go and visit.' Shouldn't we call first? 'No, it's not necessary!'
– It's a different social life, and the pace is faster in Brazil. But my friends have told me that I'm not like a traditional Brazilian, that I'm quieter and calmer. I like to watch movies and try to be outside as much as possible.
Professionally, Natalia sees significant advantages compared to Brazil.
– The pay is better, and there's more opportunity for free time. It leads to a better quality of life, she says.
The fact that both are in high demand in the job market doesn't hurt either. With industrial development in the works, companies in northern Sweden are crying out for skilled workers, while public services such as healthcare, social care, and education also suffer from a lack of personnel. If the transition is to work, northern Sweden needs to grow by 50,000-100,000 inhabitants over the next 15 years.
Tom is optimistic about the future but acknowledges significant challenges.
– For municipalities, it could be challenging to provide infrastructure, housing, and services. If they're going to attract so many people to move here, they need to shift into high gear. Addressing the energy issue is also a complex challenge. It's crucial to take the environment into account and ensure that the Sami people are not left out. All aspects must be coordinated effectively for it to work.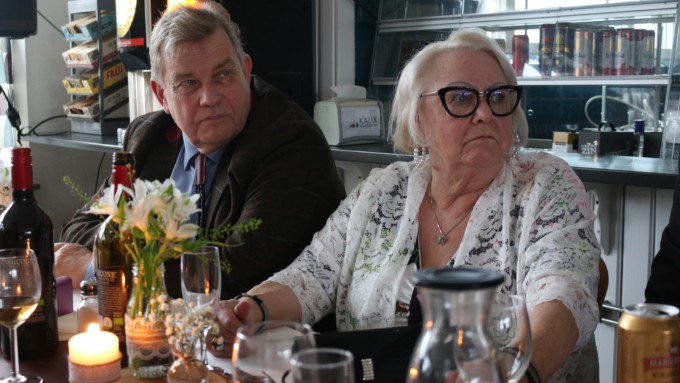 Tom's father, Rolf Andersson, and his partner, Ingegerd Westerlund, attended the wedding dinner.
Natalia och Tom
Names and ages: Natalia Meireles, 33, Tom Johansson, 34.
Backgrounds: Natalia comes from Belo Horizonte in Brazil, Tom from Storträsk outside Kalix.
Occupations: Mining engineer with a master's degree or nurse.
Current: Were married last weekend in Kalix church. They are moving in together in Pajala in June.
---