At just eighteen, she has a warm and mature voice that is consistently praised by the Idol judges. But after a close call last week, Cimberly is more aware than ever that her time on Idol could come to an abrupt end.
– I have a lot to prove tonight, but I will do my best. Last week I sang a Swedish pop duet with Linnea Henriksson and I think that song wasn't particularly 'me'. This week I've chosen two songs that are much more 'me', she says.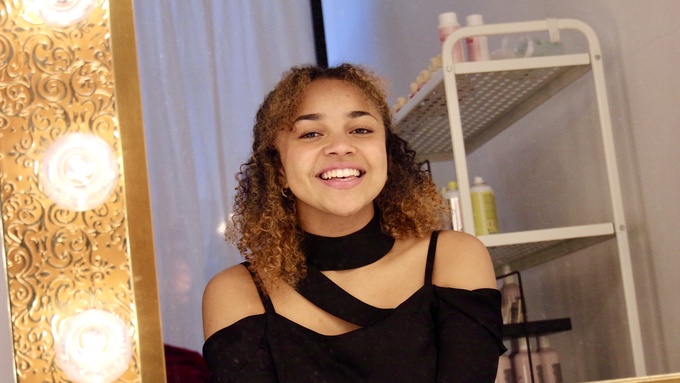 Cimberly Wanyonyi gears up for the seventh Friday final. Tonight, she sings two songs.
The quarter finals are fast approaching and this week's Idol theme is twofold - 'Love' and 'Viewer's Choice'. The Idols will sing two songs - one dedicated to a loved one and one chosen by the viewers.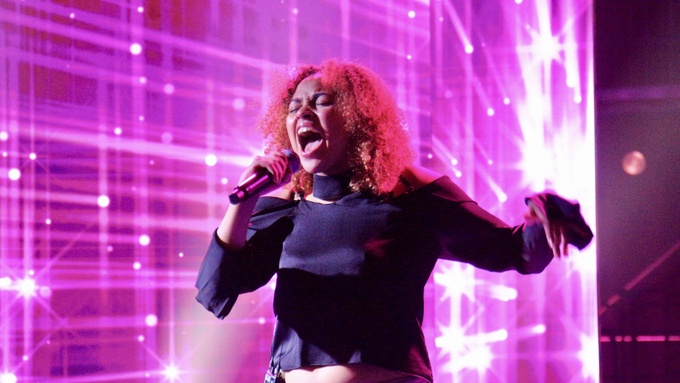 Cimberly rehearses for tonight's Friday final with a love theme and the viewers' choice.
The song choice was easy for Cimberly. Skellefteå's Idol star had a tough time lately. She was torn between the demands of participating in Idol and worrying about her mother, Jaana-Mari, who was ill and being treated at Skellefteå hospital. When the production team understood how serious the situation was, Cimberly was allowed to go home and visit her.
– That was very special for me, says Cimberly.
So when it came to dedicating a song to someone, Cimberly's choice was obvious.
– I want to honour mom by singing her favourite song - 'Bed of Roses'," says a visibly moved Cimberly.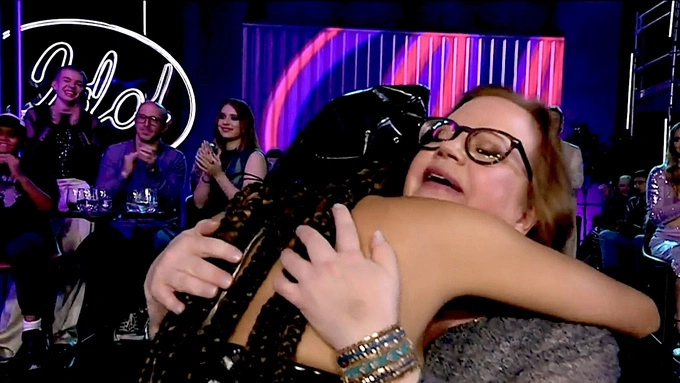 Cimberly's mother Jaana-Mari had the chance to be in the audience at the beginning of the Idol season.
In addition to "Bed of Roses", the Skellefteå star will also sing "Natural Woman", which was chosen by the viewers.
- It also feels 100 per cent right. Loving what I sing is very important to me, says Cimberly.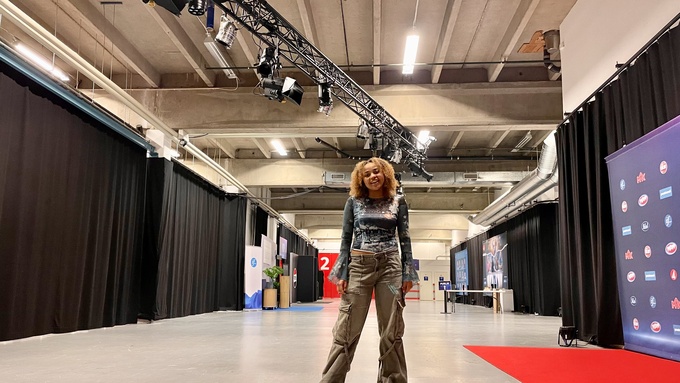 Cimberly shows us around the Idol stage.
The TV studio in Spånga is a hive of activity. Cimberly happily greets everyone she meets. When it's time for the rehearsal, she's escorted to the stage by an "idol mum", where a sound engineer is waiting with a microphone and monitor. The rehearsal goes quickly and smoothly. Cimberly is well prepared and afterwards praises the band, which is led by Skellefteå musician Johan Ivansson.
– The band is incredible, so it feels good. This is going to be so much fun.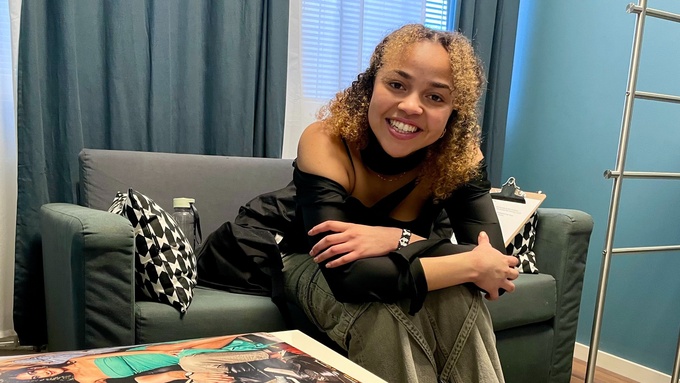 Cimberly relaxes after another intense day.
This summer, Cimberly will graduate from Anderstorpsgymnasiet's music program, and then she wants to devote herself fully to music. She is positive about the springboard that Idol has given her, although she also says that being on the show does not guarantee a career.
– My time on Idol has been a rocket ride. It's gone so fast and has been so much fun. I can't believe I ended up here, I hadn't really planned it. I feel a lot more sure about what I want to do in life now and I have more fuel to do what I want to do. Plus the belief that people actually want to listen to me. So I am not ready to leave the show yet.
Song choices
Viewers' choice:
Simon Näslund - "Jag ska fånga en ängel" by Ted Gärdestad
Jordan Rawling - "How Do I Say Goodbye" by Dean Lewis
Louisa Hoxha - "One Night Only" by Jennifer Hudson
Cimberly Wanyonyi - "Like a Natural Woman" by Aretha Franklin
Saga Ludvigsson - "Before He Cheats" by Carrie Underwood
Love theme idols' song choices:
Simon Näslund - "Säg det igen" by Lisa Nilsson
Jordan Rawling - "Say You Won't Let Go" by James Arthur
Louisa Hoxha - "Not About Angels" by Birdy
Cimberly Wanyonyi - "Bed of Roses" by Bon Jovi
Saga Ludvigsson - "You are the Reason" by Calum Scott
Fakta
For this Friday's Idol final, the special invited guest is last year's Idol winner Nike Sellmar from the neighbouring municipality of Piteå. She will be singing her new single "Hung The Moon", which is about seeing a person you have a close relationship with in a whole new light.

Idol airs Fridays at 20:00 on TV4 Play and TV4.
---