The organization, Extinction Rebellion (XR), started in 2018 in the UK and, after a couple of months, had spread to Sweden, but it was not until 2021 that the organization in Skellefteå was formed. At first, there were just four members, but today there are 15-20 members who meet every two weeks to discuss the climate issue and how they can raise awareness to get it higher on the political agenda.
– It is not us who claim that we have a climate crisis; it is the scientific community. Our primary goal is to convey climate research to the public arena and politicians, says Johan Zetterlund.
They describe the organization as flat and democratic where everyone can join and everyone has an equal say. The organization has three clear goals that they strive for.
– The first is that the government must declare a state of emergency for the climate and the earth's species and together with other actors communicate how urgent it is to change, says Urban Stoltz.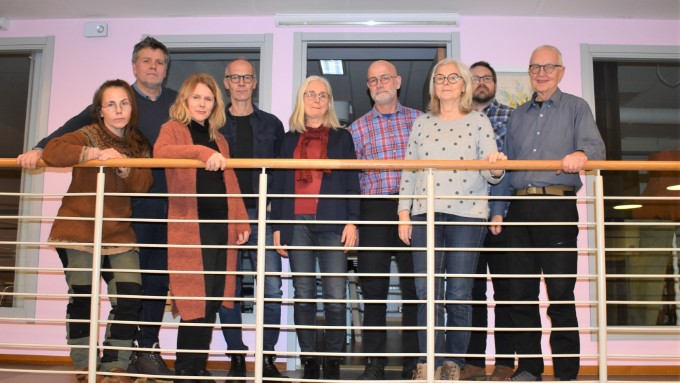 Elin Burlin-Lundqvist, Urban Stoltz, Christel Stoltz, Bo Gunnarsson, Pia Wernersson, Johan Zetterlund, Carina Grenholm, Albin Vidman and Eiler Marklund are members of the organization, Extinction Rebellion.
XR also insists that the government must act immediately to slow down the loss of species and reduce Sweden's climate emissions to net-zero by 2025.
– We also want the government to establish and be guided by a citizens' council for climate justice and ecological sustainability, says Bo Gunnarsson.
XR has been involved with some controversial protests across Sweden, but Skellefteå XR's protests have been peaceful.
– Among other things, we have demonstrated outside the municipal council with leaflets and through sit-ins to draw attention to the climate issue at the local level, says Elin Burlin Lundqvist.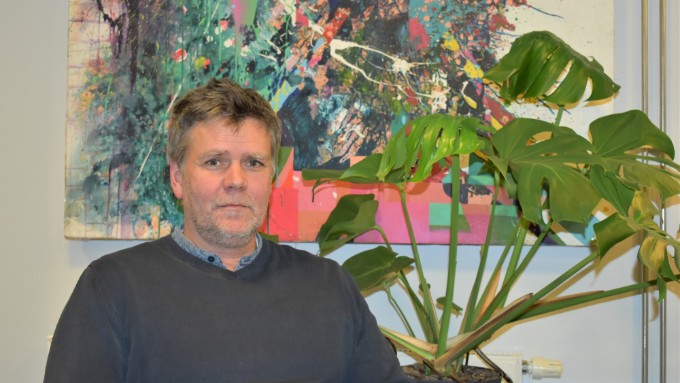 Urban Stoltz is passionate about the climate and hopes more people will start responding to the crisis.
One or more people occupying a place to carry out a protest is usually called a sit-in. Protesters gather openly and conspicuously in a place or building, and refuse to move unless their demands are met.
– Our demands are that the municipality should stop subsidizing flights and that the municipality should adopt a carbon dioxide budget, says Christel Stoltz.
Going forward, the group hopes to meet with the local political parties to discuss climate and environmental issues.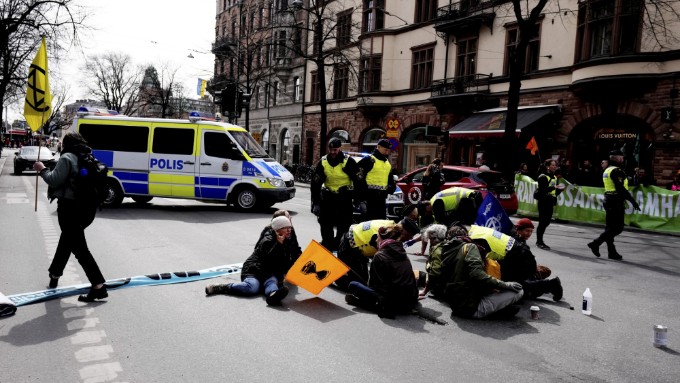 Members from Extinction Rebellion block traffic in a sit-in on Birger Jarlsgatan in central Stockholm
How do you view the incidents where ZR activists were involved in actions, such as traffic blockades, that disrupted everyday life?
- If it does not pose a security risk, I support these actions. I think the activists are brave, says Urban Stoltz.
- No one gets involved in these protests for their own gain: they do it for the rest of society. They do it because they feel that the climate issue is not getting the attention it requires. As long as you don't harm or threaten anyone, I see these actions as a necessary disturbance, says Bo Gunnarsson.
Do you understand the public's irritation over your actions?
- I can understand it as an immediate reaction, but if you think about what the purpose is, I think you should understand. There is so much at stake, says Urban Stoltz.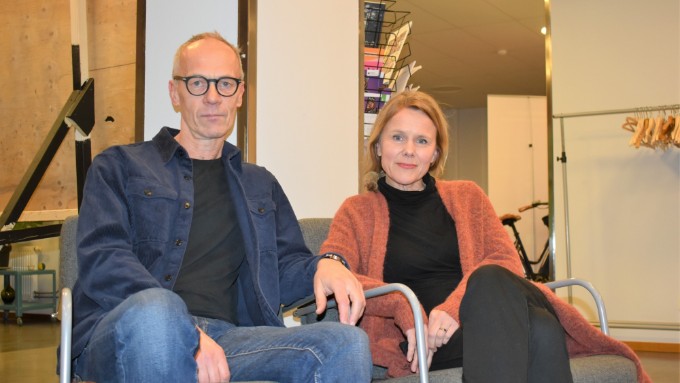 Bo Gunnarsson and Christel Stoltz want to draw attention to the climate issue.
How far do you think it is okay to go in the fight for the climate?
– I could probably imagine being in police custody to get attention to the issue, but I would never harming anyone or damage property. The important thing is that the context is meaningful, says Urban Stoltz.
How do you see civil disobedience as a method?
– If you look at it historically, it is the method that has achieved great success when it came to bringing about change in society. For example, when Rosa Parks protested against segregation in the United States, or the fight for women's suffrage, says Christel Stoltz.
Extinction Rebellion in the United Kingdom has said that this year it will temporarily shift away from public disruption, such as blocking roads, as a primary tactic. What do you think about that? Does the same apply to XR in Sweden?
– It is currently being discussed whether to follow their model or try a different strategy. One constantly discusses and evaluates how to bring about change in the best possible way, says Bo Gunnarsson.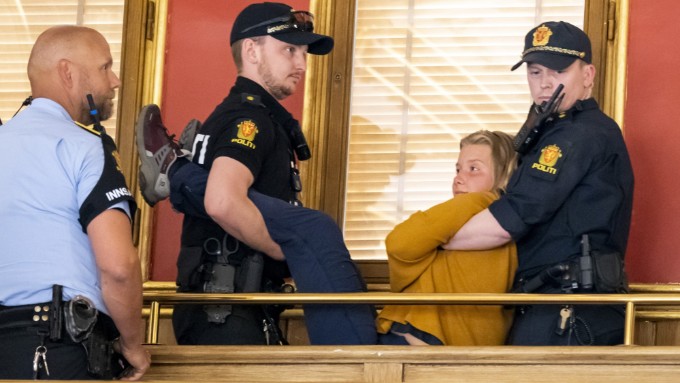 An Extinction Rebellion activist is removed after disrupting the Norwegian Parliament in Oslo last summer.
---