If you've popped into your local recycling center and been rather suprisingly confronted by a barrier, there is a good reason for this.

Barriers must now be down at all recycling centers in Skellefteå municipality, even when the centers are open. Previously, the barriers were raised during opening hours but that has now changed.
– Yes, it is something new, says Agneta Lantto-Forsgren, operations manager, waste, of Skellefteå municipality. We have long wanted to use barriers as a method of assessing traffic to the centers. Previously, we were only able to know the number who passed through these centers by monitoring the use of ÅVC (recycling center) cards.
There will now be a red and white barrier in operation when you get to the recycling center.
– This is the solution we have decided upon, says Lantto-Forsgren .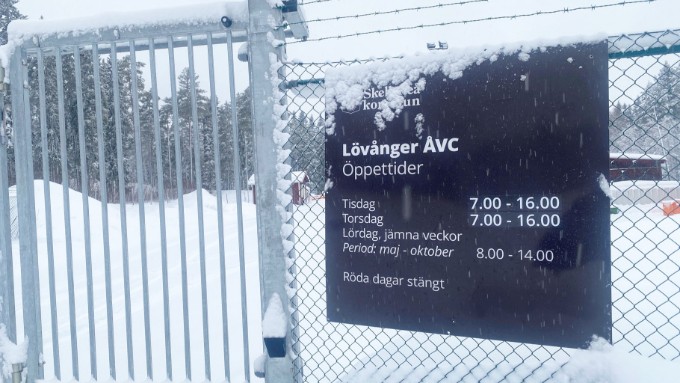 Although the recycling center in Lövånger is open on Tuesdays and Thursdays, visitors will be met by a barrier.
You will be met by the barrier even during times when the recycling center is open.
– You have to drive slowly up to the barrier which then opens automatically. Then it closes quickly after you pass. Such a type of barrier can be found, for example, at Skellefteå camping.
Using the barriers, the municipality will be able to monitor the number of people who use each recycling center.
– We place great value in knowing how many people use our facilities. The statistics have long been in demand both by politicians and the authorities, says Lantto-Forsgren.
Fact Box
Recycling centers (återvinningscentral) in Skellefteå municipality:
Degermyran, Skellefteå.
Bureå.
Byske.
Boliden.
Jörn.
Burträsk.
Lövånger.
Ursviken.
---